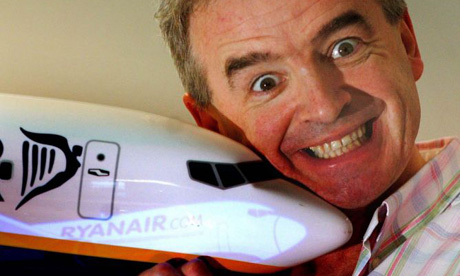 We've all been wound up by Ryanair over the years haven't we? The luggage Nazis who patrol the queues looking for oversized hand-luggage, the unseemly stampedes for a seat, the grinning mug of Michael O'Leary as he announces some other way of making his customers suffer and those enticing low fares that balloon when the extras start totting up.
A typical example: Ryanair criticised over New Year advert. Ryanair ads suggested we all spend New Year's Eve celebrating in Dublin using their super low £7 fares. Just one problem with that – the fares were for January and February so the earliest a reveller could arrive in Dublin would be as the clearing up began.
But now for something completely different. In praise of Ryanair! They now quote their fares with taxes and charges included. There are a few extras like the "EU 261 levy" and an online check-in fee but basically a flight of £50 costs more or less £50. Actually there is the other hidden charge which is a complete wind-up – the charge for using a credit or debit card which multiplies with every flight you book and bears no relation to Ryanair's actual transaction costs. But all the airlines do that don't they (and some other online merchants).
I use a Ryanair a lot and there are good reasons – they are in my experience less prone to delays than other airlines and, even when all the extras are added in, they are often the cheapest. One thing I have noticed is that it does NOT always pay to book a long way in advance. It is often the case that waiting until nearer the time (but not too near) is cheaper. I am also told that it is also wise to delete your cookies that track your previous searches and also affect the prices you are quoted (anyone know if that's true?).
A final plus point for Ryanair – they make it free to print out your own boarding pass and skip check-in at the airport. Judging by some of the long and slow-moving queues I have seen at Malaga and London recently , that is a blessing.
From our website this week: Guide to Spanish Double Tax Treaty